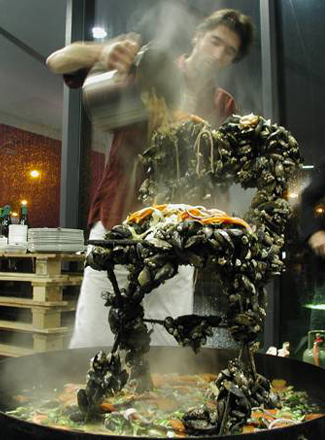 Showing typical processes in different biotopes is one of the starting points in the work of Zeger Reyers.
The way in which people create their own environment by initiating developments, to which they themselves become subordinated, makes people indigent and vulnerable.
People prefer to live in different make-believe worlds at the same time. In order to maintain this state of being people have to be manipulators of their own environments. We create different environments for any given situation, like cars, fridges, central heating etc. In this modern man-made model with its manners and ways of production, there isn't a single cell, not even a molecule on its "natural" course.
In his book 'the end of nature' Bill Mc Kibben states; "this big illusive 'thing' called nature became definitely in man's hands at the end of the nineteenth century" Here Zeger creates a focus point in his work, however not as an idealist, nor in the philosophical approach; 'placing culture versus nature', but according to a tight associative system.
He mostly uses 'nature' as a driving power, which in its slowness can be surprisingly fast. For instance by using biotopes for very different purposes than they were designed to be. So causing an alienation, you can't put your finger on. Ampified by various interpretation-layers, whilst at the same time attacking our sense of comfort.